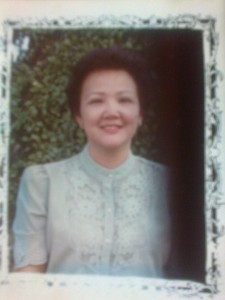 Been 24 years since you left, Ma. How time flies talaga.
I'll remember the times you loved and put up with me, no ifs ands or buts. Even when I was being bratty or whatevs at certain times, you were just there. Listening, counseling, hugging, even joking.
And yes, I'll also remember the times you punished me. I deserve those punishments anyway, hehe, and I know they were for a good reason.
Sometimes, I wish you're still here. I'd love to see you teach my daughter Kitty how to play the piano. I'm sure that most, if not all, people I'd intro to you would love you on the spot.
I once read that a mother is a child's best friend. Personally, I agree.
From you, I learned love, patience, and understanding. Qualities I (try to) extend to others. I don't always get them right, but you know I'll always give them a shot — especially towards the people I care.
(To those who don't have good experiences with their moms: I pray that things will work out for you both. Hang in there.)
Today's mom's day. Let's honor them, today and beyond.
Te amo, Ma. No te olvidare.